3 Ways Coaching Helps Leaders Focus
Clarifying the Vision. 
Leaders often have a general idea of what they are called to do. They can clearly see the results but can struggle to communicate how to get there. Vision needs to be clarified to include the how. Focusing on the how provides them with a strong foundation on which to build essential buy-in. By asking good questions, coaches help leaders clarify their vision until it can stand on its own.
Identifying the Starting Point.
All directions have a beginning and an end. Without a clear view of where you currently are, you are bound to take a long and winding road. Walking leaders through an honest survey of current realities allows leaders to plan the best possible route to their desired results.   
Empowering Forward Movement.
Even with clear vision and a solid plan, leaders can stall. They can't find the time because they are weighed down by day-to-day realities. Just as they are about to pull the trigger, another emergency pops up. When this happens, coaching can help a leader refocus priorities. Coaching catalyzes forward movement helping leaders take their next best step toward seeing their vision become reality.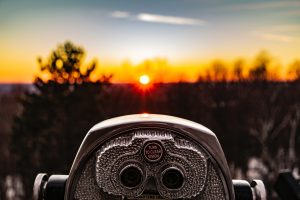 Maintaining Focus
Once you have forward movement, it's time to safeguard the leader's focus through leadership development. Creating a coaching ministry frees leaders up to maintain focus on the mission. With a coaching ministry in place, lay leaders or staff pastors will help others discover their role in the mission and empower them to live into it.
I have been honored to train leaders who are making disciples and planting churches in under-served and under-reached regions of our world. The job was to train them how to coach other leaders and spark discipleship making movements (DMM).  My goal was to help them understand how coaching compliments their disciple making efforts, effectively allowing them to stay on mission.
I like to use the analogy of a train track.  Think of one rail representing the "strategic" (DMM in this instance) aspect and the other rail representing the "relational" (coaching) aspect.  Together, these two rails provide a path for leaders to travel – keeping the focus on fueling a movement of making more and better disciples.  
Coach Ministry Training
Effective strategy in conjunction with a comprehensive coaching process helps keep leaders focused on the mission. This was a key outcome when Bob Logan developed the Barnabas Ministry Training Kit. 
Barnabas was an encourager. The few bible verses that refer to him, show us that he was instrumental in developing key leaders in the early church. We see his process as similar to coaching. If you are looking for a simple but effective process to start a coaching ministry in your church, the Barnabas Ministry Training Kit is for you.
Maybe your context is more specific and you want to ensure your coaches are equipped to support your mission and your particular community. Contact us to learn more about how we can come alongside you so see your vision become a reality.
Photo by Matt Noble on Unsplash
Cover Photo by Joshua Earle on Unsplash