A good amount of coach training focuses on honing listening skills. The truth is listening is an essential skill for all leaders. Whether you are trying to help someone move forward, solve a problem, or initiate change, it's almost like you're a detective on a case and you're listening for clues. If you miss something, it could turn out to be central to solving the case. 
Room to grow?
Consider this question: When listening to others (especially your coaching clients), how much of your attention is on your possible response? Your answer is a key indicator of how well you are listening. When you are thinking about your response, you have shifted your attention onto yourself—a good indication that it may be time to sharpen your listening skills. 
The good news is that listening is a skill that can be sharpened and improved. 
Now, let's say that maybe your own listening skills are top-notch… but you have pinpointed poor listening as a root issue in a client. They move too fast, have trouble gaining buy-in, or find it difficult to relate effectively with others. 
The other good news is that listening skills can be taught… and you can teach them to your clients.  
3 ways to improve your listening skills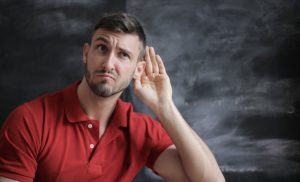 1. Mm-hmm…
Next time someone comes to you with a problem or an issue, commit to spending at least the first 10 minutes listening, saying mm-hmm, and inviting them to say more about that. When there's a pause, wait instead of jumping in. Doing this is much, much harder than it sounds. 
2. Put your desire to relate on hold
We are conditioned to relate and that's a good thing—most of the time. For the second 10 minutes of the Mm-hmm conversation, commit to making no statements—only asking questions. That means no suggestions, no stories from your own life, no examples of what others have done in this situation, no confirmations or affirmations of agreement.  
3. Stay curious
"Objection! Leading the witness." It's a phrase you've heard in every courtroom drama on TV. During a recent cohort, the question was asked how to avoid closed-ended questions and keep from "leading the witness". My colleague, Gary Reinecke, offered a simple solution, "Stay curious." When you are ready to ask a question, position yourself not as the expert having the solution but as someone interested in learning more. For a simple example, not: "Have you tried talking to so-and-so?" but "What have you already tried?"

Resources
The 3 exercises in this blog are a great start but there is so much more involved in really listening well. A great place to start is in identifying strengths and areas where there is room for improvement. The Listening Effectiveness Profile provides you with a picture of your overall listening skills and tells you where you need to grow. As a coach, the Effective Listening Coaching Guide and Storyboard can help to provide your client with a clear picture of what listening well looks like and help them see what they can accomplish from growing in this area. In between sessions, clients can work on honing their listening skills with the Effective Listening Skills Builder. (Links go to loganleadership.com)
Cover Photo by kyle smith on Unsplash